Festive trip to St Andrew's Church 2021
Festive trip to St Andrew's Church 2021
15 December 2021 (by admin)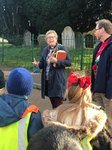 Key Stage 2 made us proud today with their impeccable behaviour during our festive trip to St Andrew's Church. It was a lovely service with beautiful singing.
Our talented Year 6s lead the way with some of our songs and presented their readings beautifully.
A big Thank You to Reverend Sue for welcoming us and a big thank you to Mrs Tuttlebee for organising the visit and for leading the songs Acappella due to a 'speaker malfunction'. Merry Christmas everyone!